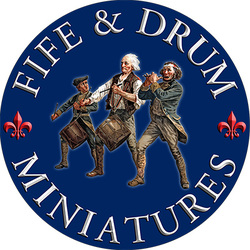 Fife & Drum Miniatures manufactures die cast military miniatures in 1/56 scale, or approximately 30mm high. Our figures are sculpted by Richard Ansell, while Robi Baker is the creator of our artillery and equipment range. We have all of our figures and equipment cast by Griffin Moulds Ltd, the premier white metal caster in the world. As a result, each casting comes out of the mould crisp and clean, with no mould lines and no metal flash attached. Best of all: there is no assembly required.
All figures are provided unpainted.
CONTACT
-- For more information, contact us at:
fife_drum_minis
@yahoo.com
---
Seven Years War

Fife & Drum currently offers two historical ranges for wargamers and diorama builders. The largest and most comprehensive is the Minden Miniatures Seven Year War range that covers the major combatants including Austria and Prussia, Great Britain and France, and Hanover. We will be adding a new range of SYW Russian figures in 2015, starting with their artillery and artillery crew in approximately June 2015.


American Revolution

Our second range covers the American Revolution (or "AWI") and is focused on the Philadelphia Campaign of 1777 and 1778. Our British infantry are depicted in the uniform that they would have worn on campaign: overalls replacing knee britches and gaitors, cut down or shortened red coats, and brimmed hats rather than tricorn hats. The British figures can be used from the New York Campaign in late 1776 all the way to the close of hostilities at Yorktown in 1781. Our American figures include Continentals in uniforms or hunting shirts, and militia in civilian clothing.


Artillery & Equipment

Finally, Fife & Drum has developed a comprehensive range of artillery and supporting equipment and wagons covering the Austrians, Prussians, Russians, British, French and Hanoverian armies in the mid 18th Century.

NEWS UPDATE -AWI HESSIANS ARE NOW AVAILABLE FOR SALE ON-LINE!

The first 16 AWI Hessian Musketeers and Grenadiers castings are posted onto the Hessian drop down page and are now available for sale as of July 8, 2016. Click on the American Revolution drop down menu at the top of this page and then select "Hessians" to place an order.

All of the AWI and SYW figures have been posted on the web site and include the shopping cart function so that you may order on-line. We accept Paypal and Credit Cards.

Shopping Cart Is Fully Operational as of June 18, 2016
All AWI and SYW product prices include shipping and handling charges in the price as of June 18, 2016.

Pictures of the products still need to be added for each stock code; however, in many instances there are pictures of the painted products on each shopping cart page.


On The Work Bench

Russians are coming! Richard is starting on the Russian musketeers and grenadiers in July 2016. We will post pictures of the greens, probably some time in September 2016.

Click on the 'more..." tab at the top of the page to see pictures of the work in progress, also called "greens", for our figures.

For our Minden SYW range, we have posted the pictures of the Grenadiers de France (with bearskin hats) greens, the Fermor, von Browne and Prinz Moritz personality figures, as well as the Russian artillery crew greens.


How Tall Are The Figures?

Legion de Hainault figures measure approximately 30mm in height, but since they are sculpted to a scale, i.e. 1/56 scale, everything about the figure is in a realistic and correct proportion. This gives our figures an elegant and life like appearance.