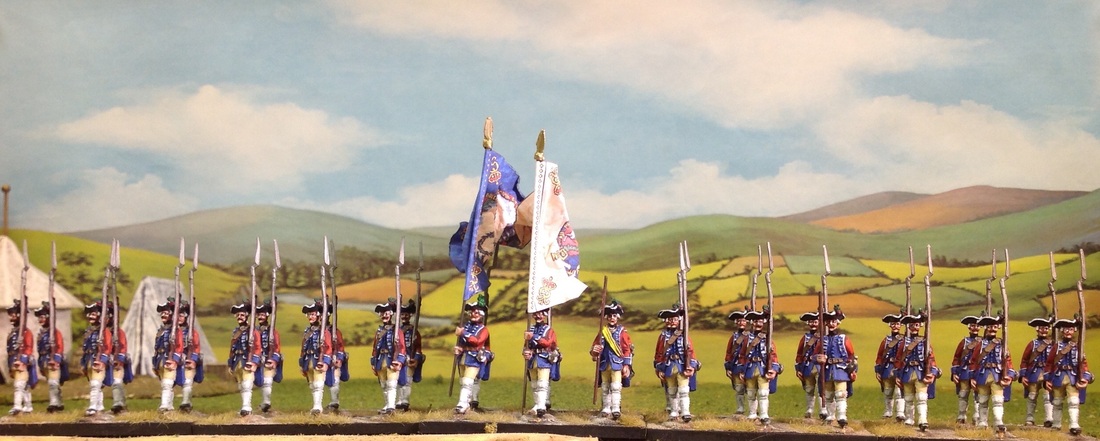 The Hanoverian army was historically aligned with that of Great Britain, since the King of England was also the Elector and Duke of Hanover. The Hanoverian army formed the majority of the Allied army in Western Germany that was commanded by the Duke of Brunswick.

Hanoverian infantry were organized into one battalion regiments and carried two different types of flags, so we recommend having two standard bearers in your musketeer regiments. The grenadier companies of the regiments were told off from their parent regiment and converged with other grenadier companies to form one grenadier battalion. Grenadier companies did not carry standards.

Hanoverian Horse regiments are heavy battlefield cavalry similar to the cuirassiers in other armies. Dragoon regiments were also used on the battlefield, but they had smaller horses than the Horse regiments.





























































































​













​Product Code



MH-001
MH-002
MH-003
MH-004
MH-005
MH-006
MH-007



MHC-001
MHC-002
MHC-003
MHC-004

Hanoverian Infantry & Artillery Crew

Hanoverian Cavalry (includes horses)

Description

Hanoverian Infantry & Artillery Crew:

Musketeer Command (3 figures: officer, std bearer, NCO, drummer)
Musketeers, Marching (8 figures)
Musketeer Standard Bearers (2 figures)
Grenadier Command (3 figures: officer, NCO and drummer)
Grenadiers, Marching (8 figures)
Hanoverian Artillery Crew with tool sprue (4 figures)
Hanoverian Mounted Colonel with horse

Hanoverian Cavalry:

Hanoverian Horse Command (3 figures: officer, std bearer and trumpeter)
Hanoverian Horse Regiment Troopers (3 figures)
Hanoverian Dragoon Command (3 figures: officer, std bearer, drummer)
Hanoverian Dragoon Troopers (3 figures)